Extend the warranty even up to 7 years
We have been taking care of quality of our car parts for years. We are certain of the products that we offer our Customers all over the world and therefore we give them a possibility of extending warranty on purchased parts even up to 7 years. A 7-year warranty is a voluntary warranty provided by the owner of Kamoka Auto Parts brand. In order to obtain it, a purchased product should be registered at www.7years.kamoka.pl/en within a month from the purchase date.
LEARN MORE
New products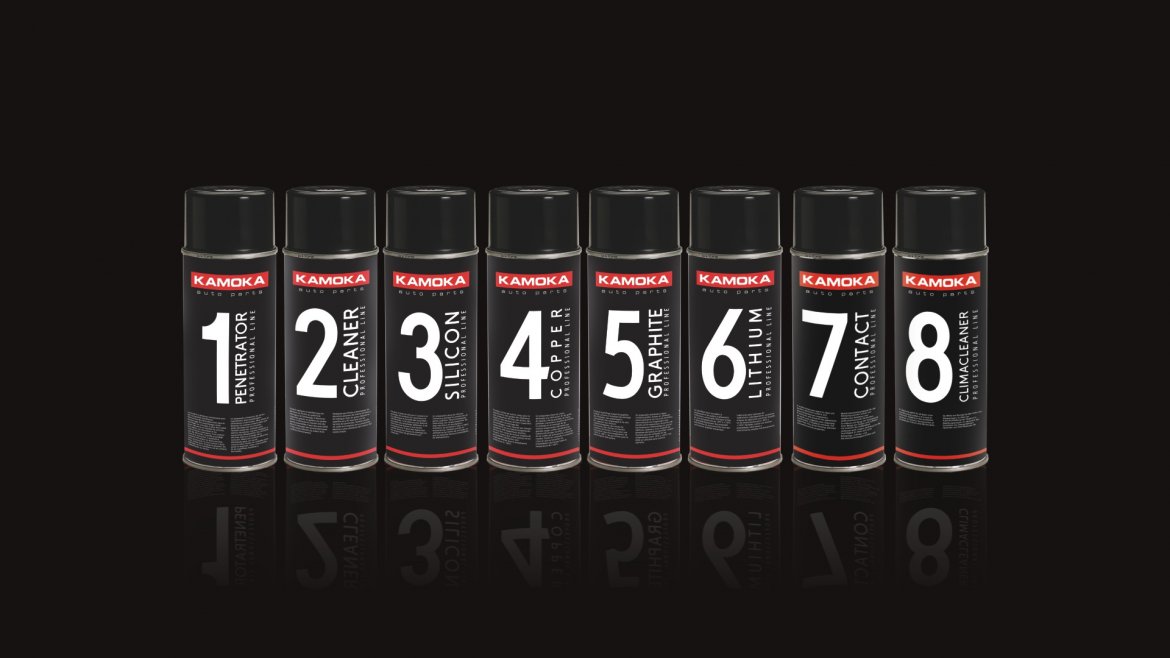 In addition to devices used for repairs, there is a need for a variety of chemicals...
In addition to devices used for repairs, there is a need for a variety of chemicals necessary to facilitate loosening of stuck connections, rust removal, lubrication and protection against the effects of rust, moisture, heat, as well as dirt from the roads. KAMOKA offers a wide range of KAMOKA Professional Line products as spray containers of a capacity of 400ml. These products should be used together with KAMOKA spare parts for repairs. PENETRATOR (1) A compound penetrating and lubricating agent. CLEANER (2) Cleans and degreases friction components of the braking and clutch systems. SILICON (3) A silicone-based agent. Preserves and protects the rubber and plastic components. COPPER (4) Copper based grease, designed for the lubrication of brake shoes and pads, levers, rods and brake springs. GRAPHITE (5) Waterproof grease containing graphite. LITHIUM (6) All purpose, water resistant grease used for rolling and sliding bearings. Due to the broad usage, these products are so versatile that they may be treated as the basic garage equipment for making mechanical repairs. Six core KAMOKA garage chemicals products are necessary equipment for any mechanic or tinkerer. For better identification they use simplified digital codes: 1,2 3,4,5 and 6, which are easy to remember when ordering. Additional, more specialized products will be systematically added in the future.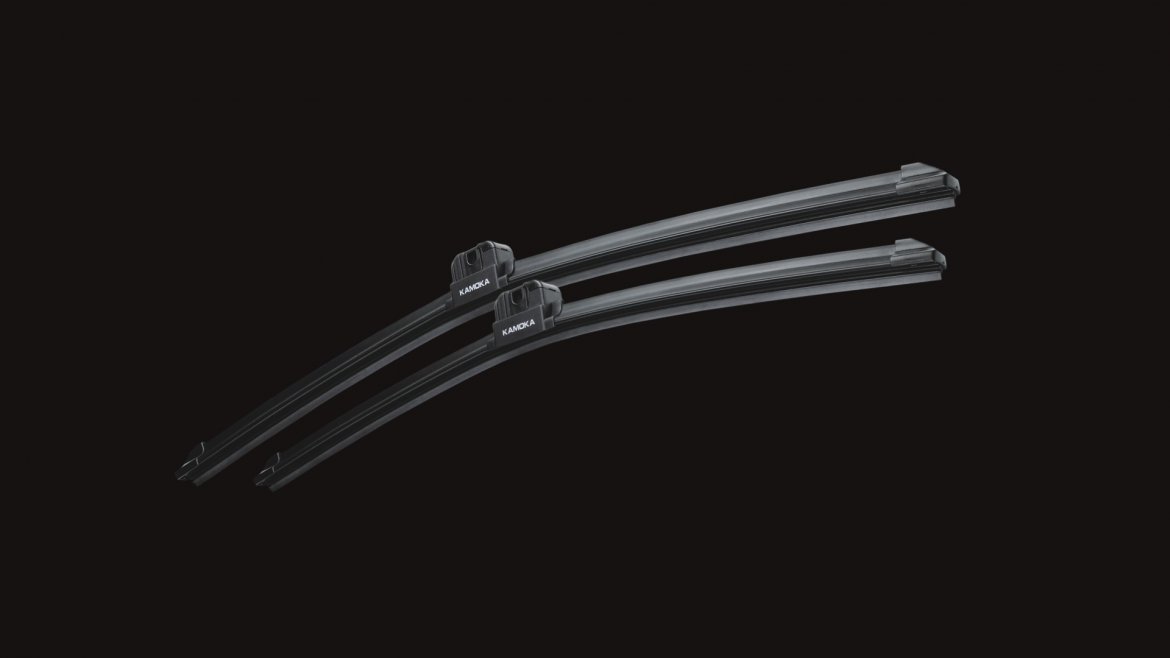 In addition to the full range of commercial spare parts focused around the vehicle...
In addition to the full range of commercial spare parts focused around the vehicle wheel, KAMOKA offers two varieties of windshield wipers. Articulated and non-articulated KAMOKA wipers constitute an offer dedicated to a wide range of car, van and truck models. KAMOKA commercial offer includes non-articulated wipers intended for cars and vans, they can also replace classic wipers. The distinguishing feature of KAMOKA non-articulated wipers is the replacement of the metal structure of the classic wiper blade with a flexible lead. Thanks to this construction of a wiper blade, there are no articulations. The down force is evenly distributed on the entire length of wiper blade. The lack of classic supporting components in KAMOKA wipers also allows to decrease the aerodynamic drag and retain full functionality in various atmospheric conditions, especially during winter. There is no contamination and freezing of moving elements of the wiper blade, unlike in the case of classic wipers. Wiper design is attractive and consistent with trends in the automotive industry. All KAMOKA non-articulated wipers are equipped with spoilers, which in turn improve the performance of the wipers at high speeds, preventing the detachment of the wiper blade from the wind shield surface. The advantage of KAMOKA non articulated wipers is the ease of connection with different varieties of wiper arms by selecting one of six directly mounted adapters included in the set, and the use of a protector that covers the blade during storage. In turn, the use of a particular set of two wipers with the fixing system dedicated to a specific vehicle ensures efficient and easier installation and safe clamping and thus trouble-free operation throughout the service life. In special cases, dedicated sets are also equipped with spray nozzles. The wiper offer is complemented by rear wind wipers, with shapes conforming to the style specified by the vehicle manufacturer. The use of KAMOKA wipers guarantees more effective wiping of wind shield, improved visibility and thus improvement of traffic safety, noise reduction, improvement of car's aerodynamics and in consequence the decrease of fuel consumption. Complete sets include all the necessary adapters, which should not be used multiple times due to heavy loads and the potential forming of backlashes.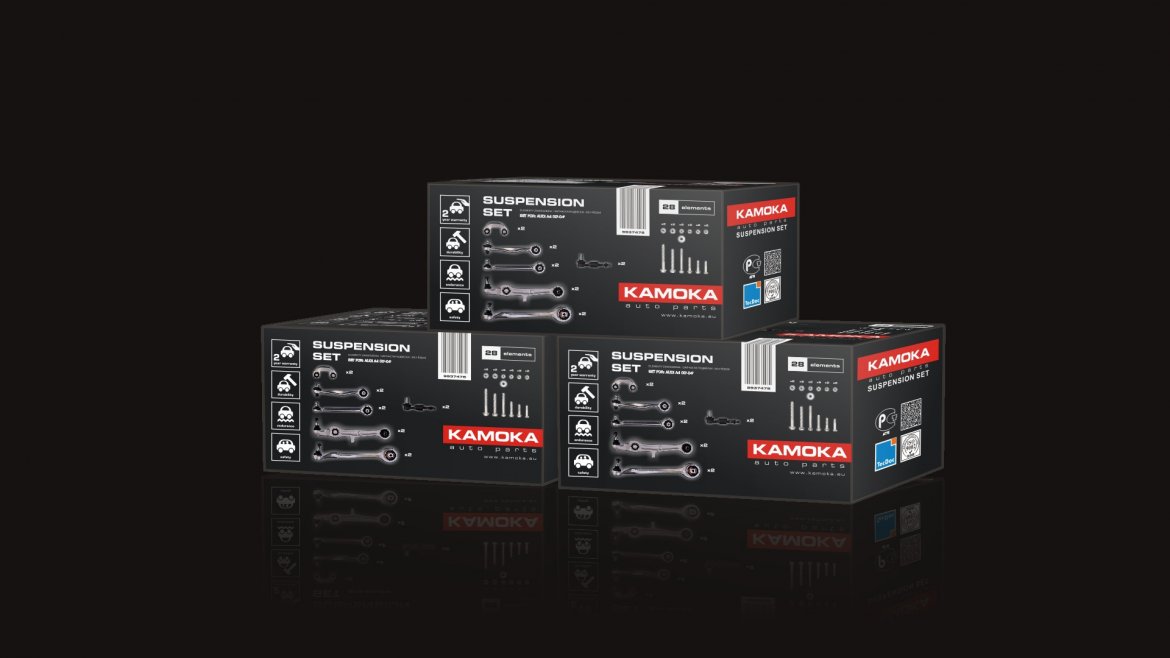 Multilink systems on newer models, brands BMW and Volkswagen Group (VW, AUDI,...
Multilink systems on newer models, brands BMW and Volkswagen Group (VW, AUDI, SKODA). They are very popular because of a large number of cars equipped with such a solution and contents of kits. These kits contain all the elements necessary to perform the repair thus ensuring the reliability of the operation for a long time. Offer KAMOKI in this regard are sets of suspension present in the packages, which include arms, connectors and all you need to replace the bolts and nuts are characterized by high strength. His attention to detail ensures compliance geometric shapes screws and construction equipment from the first installation. In addition, the kits contain the tip of steering rods which guarantees the improvement of their safety. Currently the offer is 6 sets of which five cars VW group, which covers the use of cars in the range of production 1996-2008r and one set for the BMW 5 (E39) in the range of production from 1996 to 2004. With the growing interest for comprehensive repair offer KAMOKA will develop in this area and gradually will appear references to the next car. Proper repair, according to the automakers and technology repair teams multi-link suspension, should rely on the exchange of all elements conductive.
ORIGINAL AUTO PARTS KAMOKA FOR